Our Apartments are Pet-Friendly!
Looking for pet-friendly apartments in Muskegon, MI? Look no further than Shores at Roosevelt Apartments! As a pet-friendly community, we proudly allow cats and dogs here at Shores at Roosevelt. Now your pet has the opportunity to relax by your side and enjoy the comforts of your apartment home.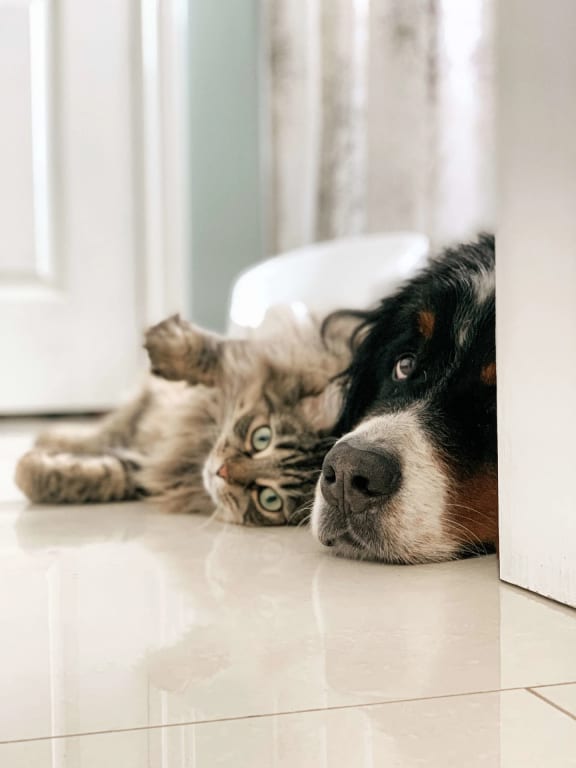 Pet Policy
Shores at Roosevelt Apartments welcomes both dogs and cats
There is a limit of 2 pets per apartment
We do not accept the following breeds: Dobermans, Pit Bulls, Chows, Akitas, German Shepherds, Rottweilers, or any non-domestic dogs or any mix of the above stated breeds. Please contact the office for more information regarding breed restrictions.
Pet Fees
$350 non-refundable pet fee for 1 pet
$500 non-refundable pet fee for 2 pets
$30 per month per pet
Testimonials
Very fast, friendly, professional service. Would HIGHLY recommend you "hanging your hat" at the Shores of Roosevelt Park!!

- Anonymous
Love my apartment. The staff are friendly, and helpful. Keep up the good work.

- Anonymous
Very glad I chose this community the staff friendly an easy took work with.

- Anonymous
Clean, pleasant staff, great location, and the the most reasonable priced!

- Anonymous
Been here for 2 years and I have to say it's been an amazing stay and I will be staying for another year . I appreciate the openness of the staff whenever I have an issue or just to listen when I want to share my day, the girls are awesome!

- Anonymous
Moving in was easy and painless with Jenn. She was super sweet and funny which made it even better. She got me into the ground floor which I appreciated SO MUCH!

- Anonymous
4 Star Review: Overall it's been a pleasant experience living here.

- Google Review
The two years we have been here have been pleasant. Maintenance is kind, and the office is willing to work with you on issues that may arise to living in large apartment. The pool is nice when it's hot. There are AC units that haven't cost us an arm and a leg to run. The winters are just right. The grounds are well kept. Overall a good experience.

- Google Review
5 Star Review: Happy to be a resident here at The Lakes for another 3rd year in a row. Summertime is the best here because the resident events are usually pretty fantastic! Good job Jen and Brit!

- Google Review
The Shores of Roosevelt has been a delight to live in. The atmosphere here is calming and relaxing. The pool is convenient and the guys keep it clean! Thankful for the great girls in the office to always help with my needs :) 5 stars!

- Google Review
5 Star Review: New move in. The process was easy thanks to Jenn. Very kind, down to earth person to talk to. Happy to be here!

- Google Review
5 Star Review: I'm a new move in and I must say i've been working with Jenn for what feels like months but so worth it! She was patient and kind through the whole process with all my questions and concerns. The complex so far is perfect for what I need! The pool is beautiful and location is spot on.

- Google Review
With Covid happening I did a "Self guided tour" The model unit is beautiful! Jennifer was more than attentive even with Covid, she was respectful and wore a mask! Lots of places I have visited did not do that so it was a relief to see this. She showed me their amenities (pool/fire pit) and laundry rooms. Fantastic location!

- Google Review
5 Star Review: My experience here at the Shores of Roosevelt has been exceptional! Been here for 5 years and love it! Jennifer is extremely sweet and very helpful! Jodi is always happy and welcoming!

- Google Review
5 Star Review: Mark the maintenance tech fixed my stove and double checked if there was anything else that needed to be done before leaving. It was much appreciated. Very thorough and nice.

- Google Review
Been here over a year, great place! Amazing location and good price. Maintenance is always on point and office staff are great with communication. Highly recommend seeing Jen for your move in process!

- Google Review
5 Star Review: Most everything can be done form a smartphone which I find super convenient. Jennifer in the office helped me sign my first lease and was super helpful. I hate filling out paperwork but with Jodi and Pamela in the office it was painless. Maintenance has always been there within a day of putting In a request. I have been here two years and love my new apartment!

- Google Review
5 Star Review: Is a good place to live and an incredible staff, they are very kind.

- Google Review
5 Star Review: Been here for 24 years and I have nothing but great experiences and positive feedback to give to the Shores. Maintenance is always on their A game when it comes to work orders and the office staff are extremely polite and helpful. Long time resident and have no complaints.

- Google Review
Enjoy my stay here! Love the location and resident events each month

- Yelp Review
Easy to apply. Respond time is very quick

- Facebook Review
Love the Shores! Maintenance is punctual, Derrick is wonderful. Love the spacious courtyard and resident events. Have to give Jen a shout out as well for all her help and warming personality!

- Google Review
Awesome place and even better staff!

- Facebook Review
It's in a very good area. Good school district!

- Facebook Review
5 Star Review: The shores is a great place! Great employees and wonderful location! Would recommend to anyone!

- Google Review